Student Voice is an aspect of Student Council that serves as a liaison between the student body and administration. If you are a student at SHS and want a specific issue dealt with, have ideas for how to improve school climate, or have general suggestions for how we can improve our school, email us and we will work to make your voice heard! Please include your full name and grade when emailing us:
StevensStudentVoice@gmail.com
COVID Update for 11/30/21 - there was one identified positive case of COVID at SHS yesterday, November 30, 2021
Please join us on Sunday, December 5th from 10 am -4 pm at the Claremont Middle School for a COVID-19 vaccination clinic. The clinic on December 5th, will be offering the following vaccination series: Pediatric Doses for Ages 5 – 11: Pfizer (2-doses) (COVID-19 Vaccines for Children and Teens | CDC) Primary Doses for Ages 12 – 17: Pfizer (2-doses) (COVID-19 Vaccines for Children and Teens | CDC) Primary Doses for Ages 18+: Pfizer (2-doses), Moderna (2-doses), and J&J (1-dose) (Your COVID-19 Vaccination | CDC 3rd Doses for Pfizer and Moderna (these are indicated for persons who are moderately to severely immunocompromised (COVID-19 Vaccines for Moderately to Severely Immunocompromised People | CDC) Booster Doses for Pfizer, Moderna, and J&J (Who Is Eligible for a COVID-19 Vaccine Booster Shot? | CDC; CDC Expands Eligibility for COVID-19 Booster Shots | CDC Online Newsroom | CDC) Additionally, the mobile vaccination providers will be able to accommodate requests for heterologous dosing – persons eligible for boosting can choose which COVID-19 vaccine product they receive as a booster regardless of the vaccine product received for their primary series. Most importantly, we think the most important message is for individuals to come and talk with our providers about whether a booster is right for them if they are unsure. Our providers are happy to educate anyone who would like additional information.
Hi all: Just a head's up that given the high number of COVID cases in Claremont and Sullivan County the decision has been made to cancel this weekend's Craft Fair on Saturday as well as any concessions for home basketball games. Pat
Today, November 29th, we had four new positive cases of COVID at Stevens High School.
The DHHS van is at the Claremont Fire Station today from 3pm-6pm, offering Covid vaccines and boosters!
Please check out these dates and times for information on the Air Force Academy and Air Force ROTC - a great way to get a higher education. Check out the information on the flyer.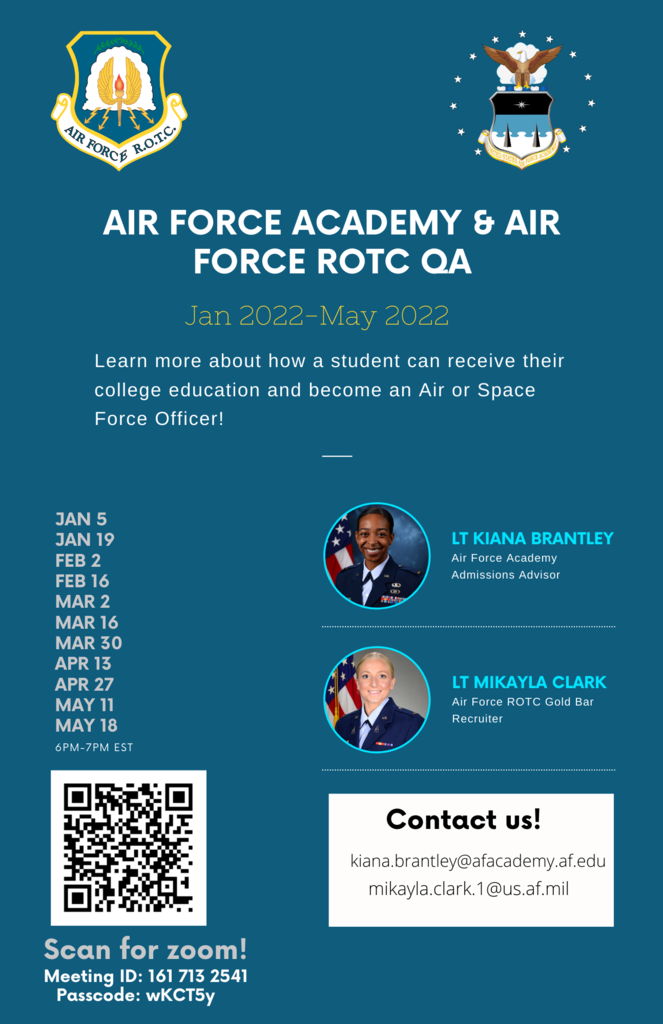 Reminder: The Holiday Craft Fair is being held in the Stevens Gymnasium this Saturday, December 4th from 9:00 to 3:00. There will be over 50 vendors and concessions. No entry fee and masks are required. All proceeds go to the Puerto Rico trip in April - Hope to see you there!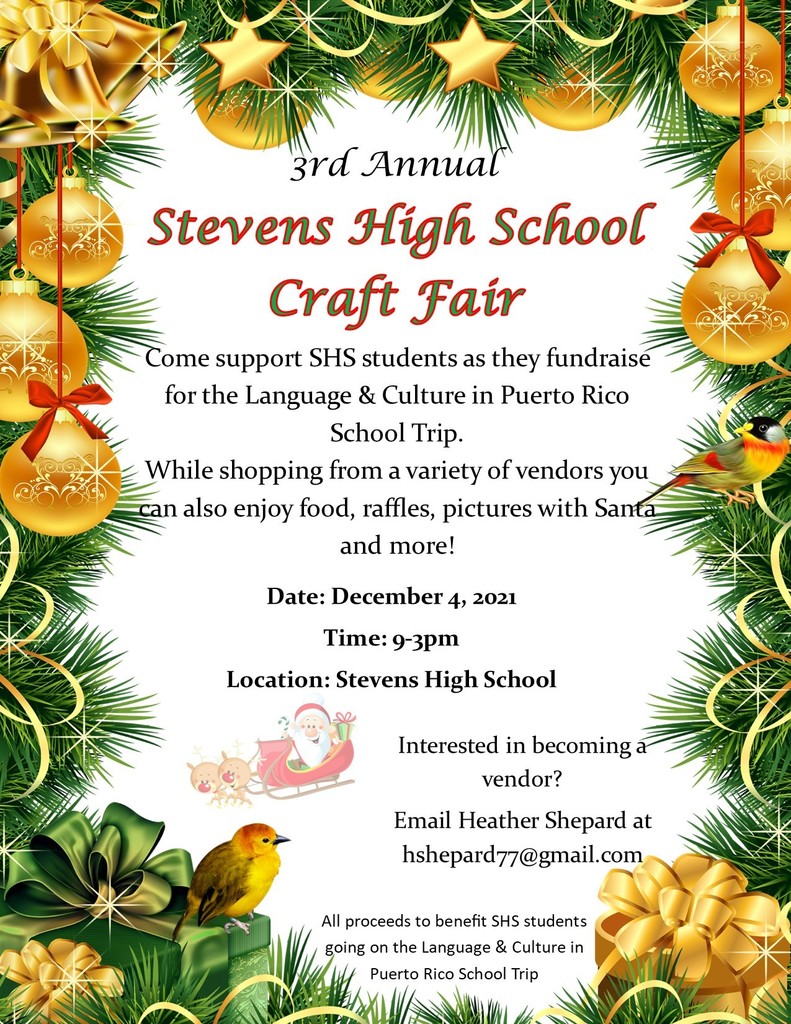 Today we had four additional positive cases of COVID at SHS.
Hi all: Just a reminder that ALL wildlife calendar order forms and money is due TOMORROW. We will not be able to take anything after tomorrow as we still need time to sort all the orders out and send them out prior to the Thanksgiving break. Please hand all orders in to Ms. Taylor - thank you. Mrs. B
If this is ok, here's a blurb to go with it: Students in Ms. Rioux's College Composition class are conducting surveys to help them create PSAs about issues that are important to them. One group is interested in hearing from adults in the community about their thoughts on the importance of going to college after high school. Please take this survey and help them gather data! Copy and paste the following link to the survey i another browser:
https://docs.google.com/forms/d/e/1FAIpQLSd9l3B8isf_mZoJbMqy9kn3S5c5mIW-H5Pa8EMuybGda9__8A/viewform?usp=sf_link
Hi all: First quarter grades have been stored and are now available for viewing on the Parent Portal in Powerschool. You can also see the short version of the report card there as well. We are mailing out the long version, which will include how your student is doing in the learning targets and competencies and other important information on their grades. If you currently do not have access to Powerschool please contact the school so we can help you get that access so you can monitor your students grades, absences etc. on a daily basis. Eligibility for playing winter sports is contingent on 1st quarter grades. Based on NHIAA rules students cannot be failing two or more of their classes. Any athlete who is currently not eligible based on 1st quarter grades will be placed on Academic Probation for two weeks for the purpose of recovering a passing grade. It is the responsibility of the student-athlete to work with their teachers on how and when this will be done.  Reminder: All seniors are required to attend Monday advisories regardless of their grades. Any senior who has a failing grade is expected to be in school Tuesday through Friday to participate in FLEX for remediation. If they do not it is marked as Absent Unexcused. Seniors also will need 48 hours of community service in order to be eligible to graduate in June. They should reach out to their school counselor with any questions on how to go about getting those hours. Thank you and I hope you all have a healthy and safe Thanksgiving. Pat Barry, Principal
Since Monday there have been 5 positive cases of COVID identified at Stevens High School. One each on Monday, Tuesday and Wednesday and two additional cases today.
Quarter One grades have been stored in PS and parents can access them on the Parent Portal, along with the short version of the report card. The long version will be sent home in the mail in the next few days.
Yesterday, November 9th, 2021 there was another confirmed case of COVID at Stevens High School and today there was an additional case. Please follow state guidelines for staying safe and healthy and for quarantining.
Hi all: Just a reminder that Monday, November 8th is Parent/Teacher Conferences and no school for students. All conferences are virtual and we hope that you will take the opportunity to meet with your child's teachers from 12:30 to 8:00 p.m. If you have not yet set up a conference please email the teachers (first letter of first name followed by last name and @sau6.org ie:
pbarry@sau6.org
) for a time. Also, since Thursday 11/11/21 is Veteran's Day, there will be no school then either. Thank you and enjoy the rest of your weekend. Pat Barry, Principal
November 4, 2021 Dear Stevens High School Parents, Guardians, Students, and Staff, This letter is to communicate that at Stevens, there have been four additional positive cases of COVID since yesterday. Per standard protocol, please follow the recommendations as outlined by the NH Department of Health and Human Services (DHHS). Unvaccinated students who are found to be positive must quarantine for 20 days, if they are not able to completely isolate themselves within their family and community. The recommendations may be found here: self-observation guidelines. I have included the following documents for you to reference regarding quarantining, self-observation, and isolation: file:///C:/Users/patricia%20barry/Dropbox/My%20PC%20(SAU-06501)/Downloads/school-childcare-toolkit-2021-2022%20(3).pdf file:///C:/Users/patricia%20barry/Dropbox/My%20PC%20(SAU-06501)/Downloads/self-isolation-unable.pdf file:///C:/Users/patricia%20barry/Dropbox/My%20PC%20(SAU-06501)/Downloads/self-isolation-able.pdf If you have any questions or concerns, please contact our lead nurse Roni Januszewski,RN at
vjanuszewski@sau6.org
or your school nurse Ruth Smolnik, RN via email at
rsmolnik@sau6.org
. Thank you for your continued efforts in keeping our schools and community safe during these times. We will continue to mask, social distance, and sanitize as directed by our Matrix. Our top priority is to keep our students happy, safe, and in school. Please remember to complete the home screening tool daily, and if you're not feeling well, please stay home. Sincerely, Patricia Barry Principal, Stevens High School 603-543-4220 ext. 1004
SHS Student Council is hosting a food drive that will benefit the Claremont Soup Kitchen. If you'd like to donate, please bring NON-PERISHABLE ITEMS to the red boxes located in the entryway of the main office. In the coming days, we will also have a donation box set up in the exit vestibule at Hannaford. The food drive will run through November 19th. All donations are helpful! Please reach out to a Student Council officer or Ms. Coughlin if you have any questions. Anyone bringing food from outside the building should come to the Event Entrance and we will collect it from you there. Thank you!!!