Today, January 19th, three additional cases of COVID have been identified at Stevens High School. Pat Barry, Principal
Today, Tuesday, January 18th we have identified 4 additional, positive cases of COVID at Stevens High School. Pat Barry, Principal
On Friday, January 14th, there were 4 more additional cases of COVID identified at Stevens High School, with 6 others under review. Pat Barry, Principal
Today, January 12th, 2022, there were three additional positive cases identified at Stevens High School. Pat Barry, Principal
Today, Tuesday, January 11th, there have been 6 new cases of COVID identified at Stevens High School. Pat Barry, Principal
There were six positive cases of COVID identified at Stevens High School today, Monday, January 10, 2022.

Check out this year's Stevens High School Virtual Open House. Please follow instructions within the slideshow. Please follow this link to the slideshow
https://bit.ly/3ti86t4
There have been two confirmed, positive cases of COVID today, January 7th, 2022 at Stevens High School.
On Friday, December 10th, there were two more positive cases of COVID identified at Stevens High School.
There have been three additional, confirmed cases of COVID at SHS today, December 7th, 2021.
There have been two, additional positive cases of COVID identified at SHS today.
Student Voice is an aspect of Student Council that serves as a liaison between the student body and administration. If you are a student at SHS and want a specific issue dealt with, have ideas for how to improve school climate, or have general suggestions for how we can improve our school, email us and we will work to make your voice heard! Please include your full name and grade when emailing us:
StevensStudentVoice@gmail.com
COVID Update for 11/30/21 - there was one identified positive case of COVID at SHS yesterday, November 30, 2021
Please join us on Sunday, December 5th from 10 am -4 pm at the Claremont Middle School for a COVID-19 vaccination clinic. The clinic on December 5th, will be offering the following vaccination series: Pediatric Doses for Ages 5 – 11: Pfizer (2-doses) (COVID-19 Vaccines for Children and Teens | CDC) Primary Doses for Ages 12 – 17: Pfizer (2-doses) (COVID-19 Vaccines for Children and Teens | CDC) Primary Doses for Ages 18+: Pfizer (2-doses), Moderna (2-doses), and J&J (1-dose) (Your COVID-19 Vaccination | CDC 3rd Doses for Pfizer and Moderna (these are indicated for persons who are moderately to severely immunocompromised (COVID-19 Vaccines for Moderately to Severely Immunocompromised People | CDC) Booster Doses for Pfizer, Moderna, and J&J (Who Is Eligible for a COVID-19 Vaccine Booster Shot? | CDC; CDC Expands Eligibility for COVID-19 Booster Shots | CDC Online Newsroom | CDC) Additionally, the mobile vaccination providers will be able to accommodate requests for heterologous dosing – persons eligible for boosting can choose which COVID-19 vaccine product they receive as a booster regardless of the vaccine product received for their primary series. Most importantly, we think the most important message is for individuals to come and talk with our providers about whether a booster is right for them if they are unsure. Our providers are happy to educate anyone who would like additional information.
Hi all: Just a head's up that given the high number of COVID cases in Claremont and Sullivan County the decision has been made to cancel this weekend's Craft Fair on Saturday as well as any concessions for home basketball games. Pat
Today, November 29th, we had four new positive cases of COVID at Stevens High School.
The DHHS van is at the Claremont Fire Station today from 3pm-6pm, offering Covid vaccines and boosters!
Please check out these dates and times for information on the Air Force Academy and Air Force ROTC - a great way to get a higher education. Check out the information on the flyer.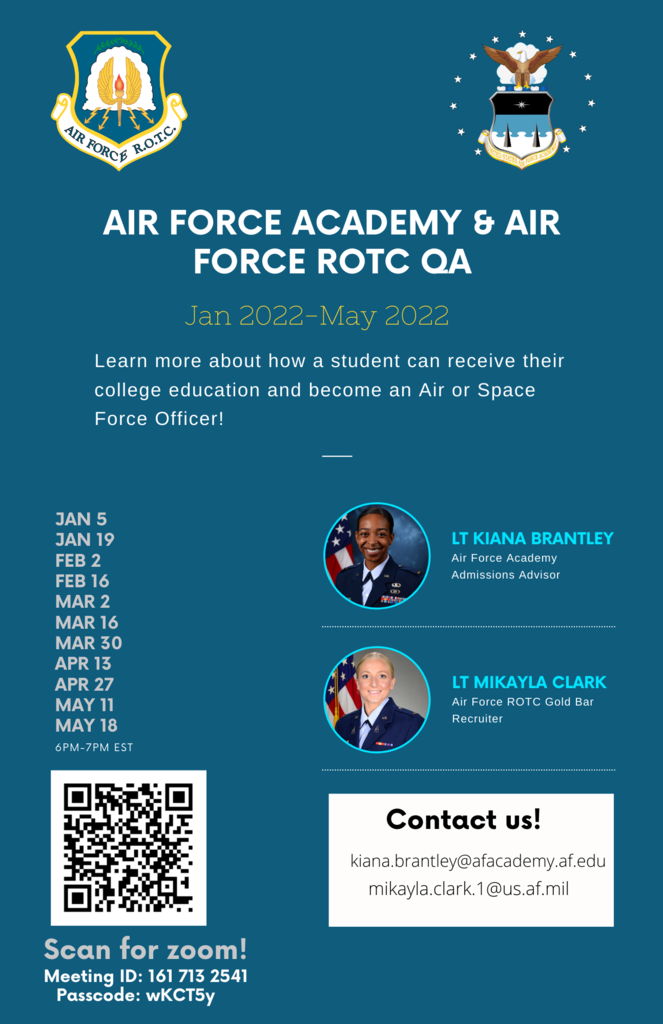 Reminder: The Holiday Craft Fair is being held in the Stevens Gymnasium this Saturday, December 4th from 9:00 to 3:00. There will be over 50 vendors and concessions. No entry fee and masks are required. All proceeds go to the Puerto Rico trip in April - Hope to see you there!